MGE Releases 2019 Environmental and Sustainability Report
Annual report features company's strategies for achieving net-zero carbon electricity by 2050.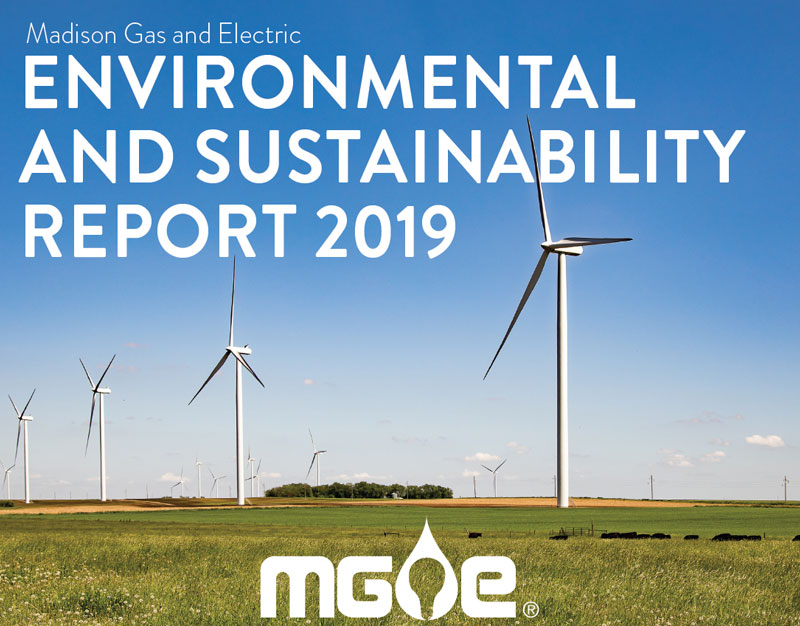 Madison, Wis., Nov. 26, 2019—Madison Gas and Electric (MGE) has published its 2019 Environmental and Sustainability Report, detailing its sustainable energy goals including net-zero carbon electricity by 2050. The report covers the company's clean energy investments and its partnerships with customers and other stakeholders to advance sustainability through energy efficiency, new technologies and other ways.
"As your community energy company, MGE is committed to serving and working with all our customers to create a more sustainable future for the benefit of all those we serve," Chairman, President and CEO Jeff Keebler said. "Our goal reflects our vision and signals our direction, but it does not determine our pace. We're making decisions every day to achieve deep decarbonization as quickly and cost-effectively as we can while working to ensure all customers benefit from the use of new technologies and investments in clean energy."
Report highlights
The Environmental and Sustainability Report features information about MGE's corporate strategy and climate-related matters, safety and operations, customer and employee engagement, governance and oversight. Highlights include:
Recent development of clean energy projects equating to a roughly 600% increase in owned renewable capacity when all projects come online, including the Badger Hollow Solar Farm and Two Creeks Solar and the expansion of MGE's successful Shared Solar program.
MGE's partnership with the University of Wisconsin-Madison's Nelson Institute for Environmental Studies to evaluate the company's net-zero carbon goal.
The launch of MGE Connect™, a residential program to help MGE better understand the role and impact of using smart devices to manage the grid.
How MGE is forward-thinking in electrifying transportation, working with customers, stakeholders, municipalities and other partners to grow the use of electric vehicles (EVs) and to facilitate charging options throughout the community.
MGE's record of top-ranked electric reliability and its employee-led safety initiatives to ensure safe, reliable electricity and natural gas for customers.
The company's efforts to help improve the quality of life for those it serves by giving back to the community through the MGE Foundation, corporate giving and employee volunteerism.
Commitment to transparency and disclosure
MGE's report is consistent with the recommendations of the Task Force on Climate-related Financial Disclosures (TCFD). MGE is committed to helping customers, investors and other stakeholders better understand the company's long-term strategies, challenges and opportunities as it transitions to a more sustainable, net-zero carbon future.
MGE also continues to participate in the Edison Electric Institute's (EEI) environmental, social, governance (ESG) and sustainability reporting templates. EEI, which represents all U.S. investor-owned electric companies, developed the voluntary, industry-specific templates to provide more uniform and consistent reporting of data and information from the electric sector. The templates include data related to MGE's portfolio (generation and capacity), emissions, capital expenditures, human and natural resources and other matters.
About MGE Energy
MGE Energy is a public utility holding company. Its principal subsidiary, MGE, generates and distributes electricity to 153,000 customers in Dane County, Wis., and purchases and distributes natural gas to 161,000 customers in seven south-central and western Wisconsin counties.